Semi-automatic Eggbeater Manual Self Turning Stainless Steel Whisk Hand Mixer Blender Egg Tools.
The Spring action whisk makes it easy to whisk any of you baking favorites, simply push down on the handle and the springs will do thaw Orc for you. Made from high Quality stainless steel making this product highly durable and BPA free.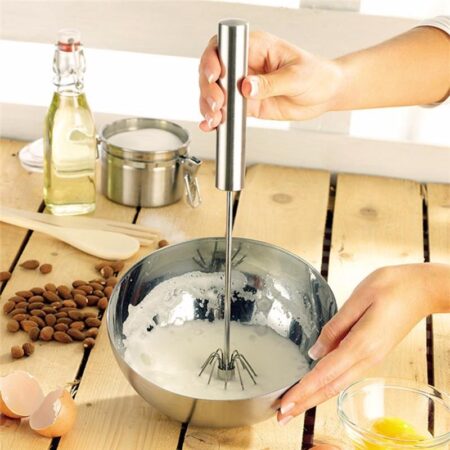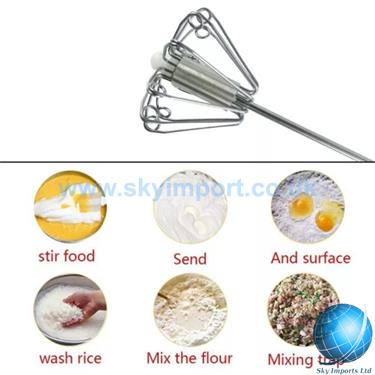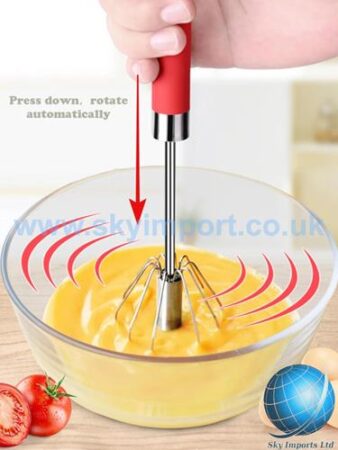 Features
100% Brand new and high quality.

Quantity:1

Color: Black

Material: Stainless Steel

 It's very convenient to use without using any electricity or batteries and without any noise like electric mixer ,you simply press down on the whisk and it rotates on its own without you having to use any wrist movement. it works just as fast as an electric mixer, but you don't have to plug in anything

Perfect for mixing sauces, marinades, eggs, cake batter, pancake mix, and more

The whisk is made of stainless steel so you don't have to worry about it rusting over time Professional grade materials make this cooking tool a must-have for home cooks and restaurant chefs

Easy to clean –  just whisk it clean in soapy water, rinse and pat dry

Can mix, whisk, froth and whip in seconds with minimal effort on your part and without the use of electricity

Type: egg tools, eggbeater laying method: hand, egg tools type: egg beaters, metal type: stainless steel

Hot sale semi-automatic mixer egg beater manual self turning stainless steel whisk hand blender egg cream stirring kitchen tools

For optimal safety function, carefully wash by hand in warm water and dry with soft cloth.

Perfect to prepare cream, mayonnaise, milk shakes, omelets or preparing the perfect cappuccinos.
Box Contains
1 x Stainless Steel Spring Action Whisk