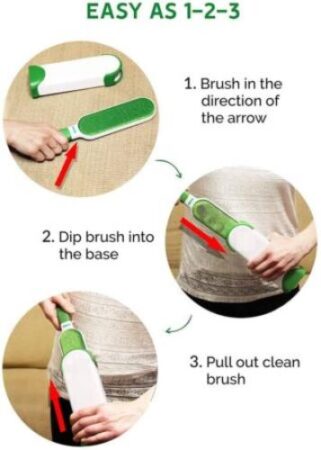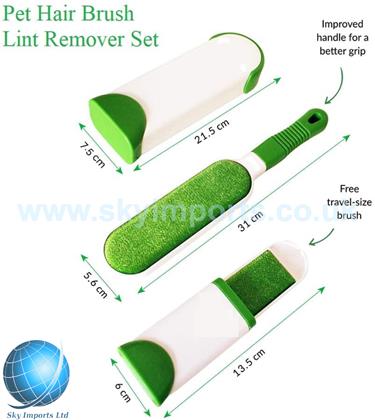 PREMIUM Pet Fur And Lint Remover – Our new and improved pet fur remover brush is an essential for pet owners. Keeping your clothes and furniture fur and lint free has never been easier. With a swipe of the hand unwanted fur will disappear.
REUSABLE – The wand like brush can be used time and time again. No refills required like traditional lint rollers. Just dip in and out of the base and your brush will be ready for action once more.
SELF-CLEANING BASE – What's better than an easy-to-clean cleaning tool? Simply insert the fur-filled brush into the base and when you take it out you will have a clean brush again. Fur and lint will collect at the bottom of the base making it super easy to dispose of when needed.
TRAVEL-SIZED BRUSH INCLUDED – Important meeting? Job interview? Romantic date? Make sure your clothes are always lint free! We have designed a mini version of the Fur remover. The perfect size for keeping in your car or bag.
Do you have a dog or a cat? Are you fed up of endlessly finding their fur being left on your clothes, furniture and car seats? What about the dog/cat bed that is COVERED in old hairs and fur? Annoyed that your Carpet has become a Fur pet? If you have answered yes to any of these things then this is the brush you NEED.
Pet fur over time becomes ingrained into almost everything in your household if not cleaned up. Sofas, cushions, bedding and most annoyingly of all your clothing!
This newly designed Fur remover brush with a self-cleaning base is like a magic wand to unwanted fur and lint. All you have to do is swipe the double sided brush in the direction of the arrow over the area you want to clean and abracadabra the fur is gone. To clean the brush dip it in and out of the base and your brush will be clean and ready to re-use time and time again.
The bottom of the base is removable and this is where the fur and lint will collect. This makes disposing the unwanted fur quick and easy.
Also included is the travel-sized version which is smaller in size and has its own cleaning base. This brush is lightweight, compact and durable making it easy to carry with you or store neatly in your car.