Premium Quality
Extremely Flexible Expanding Garden Hose in Professional Quality TPE Inner Tube. The multi-functional Spray Nozzle with 7 Functions. Expanding Garden Water Hose, covered with Elastic Non-Abrasive Plastic Which Can Expand Up to 3 Times of Its Original Length. Made from high pressure-resistance durable material.
Due to The Reliable Pressure-Resistant Flex Hose Technology the Expandable Pipe Never Kinks or Tangles.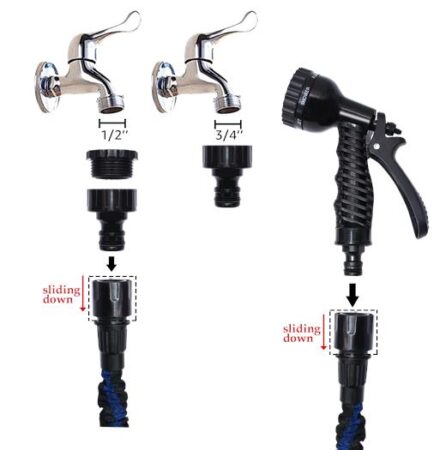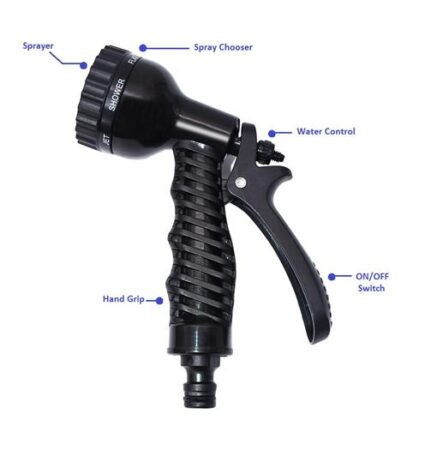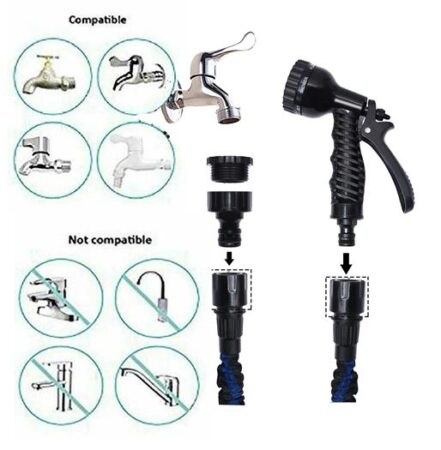 Application
Irrigation and Washing in The Parks, Community, Factories and Families
Pets Bathing, Hose Cleaning
Car Washing, Garden Watering
Package Include
1 X Expandable Garden Hose Pipe
1 X 7 Function Multi-Functional Spray Nozzle
1 x Tap Connector
Measurements:
SIZE 1 :  50FT-15M           CONTRACTS TO  5M  WHEN  NOT IN USE
SIZE 2:  75FT-22.5M         CONTRACTS TO 7.5M WHEN NOT IN USE
SIZE 3:  100FT-30M          CONTRACTS TO 10M WHEN NOT IN USE
Size 4:  150FT- 45.5M      CONTRACTS TO 15M WHEN NOT IN USE
Do's & Don'ts
This Hose is designed for Domestic garden use only. Not for non-domestic use. It comes with tap connector that can fit on most outdoors taps, please refer to the pictures in this listing. It will not fit on your kitchen sink tap. If you are not sure please contact us before buying. Refer to the manual and care instruction, read before first use. Following Are Some User Instructions, Which If Followed Can Increase the Life of Your Expandable Garden Hose:
When Using the Hose First Time, ensure to Fill the Hose with Water with The Shut Off Valve Off and Allow the Hose to Stretch and Expand. Once It Has Expanded, Release The Water and Repeat the Above Process Once More Before Started Using It.
Attach The 8 Setting Spray Nozzle On the Other End of the Hose.
When Fully Expanded Its Ready to Use.
Turn The Water Off at The Source When the Hose Is Not in Use.
Squeeze The Nozzle to Drain the Hose Completely and Allowing the Hose to Contract to Its Original Length.
Do Not Use the Hose for Drinking Water.
Do Not Leave the Hose Exposed to Sun for Long Time.
Do Not Leave the Hose Out in Extreme Winter Weather. Be Careful to Use Hose On Rough Concrete and Sharp Edges.
Keep The Hose Indoor and Shaded to Increase the Life of the Hose.
Be Very Careful While Pulling / Dragging The Hose to The Rough Ground in Case the Sharp Sand Enters into and Pierces the Hose
Do Not Stamp the Hose.